Susan G. Komen® is the world's leading nonprofit breast cancer organization, working to save lives and end breast cancer forever. Komen has an unmatched, comprehensive 360-degree approach to fighting this disease across all fronts and supporting millions of people in the U.S. and in countries worldwide. We advocate for patients, drive research breakthroughs, improve access to high-quality care, offer direct patient support and empower people with trustworthy information. Founded by Nancy G. Brinker, who promised her sister, Susan G. Komen, that she would end the disease that claimed Suzy's life, Komen remains committed to supporting those affected by breast cancer today, while tirelessly searching for tomorrow's cures.
Save lives by meeting the most critical needs in our communities and investing in breakthrough research to prevent and cure breast cancer.
A world without breast cancer.
Komen's four pillars – Research, Care, Community, and Action — were originally developed to help illustrate the comprehensive approach Komen takes to fighting breast cancer from all sides.  They also serve as a way to help thousands of constituents connect with Komen:  both those who need help as well as those who want to help. 
To help strengthen the unique and differentiating nature of Komen and our mission, the four pillars are to be described as follows: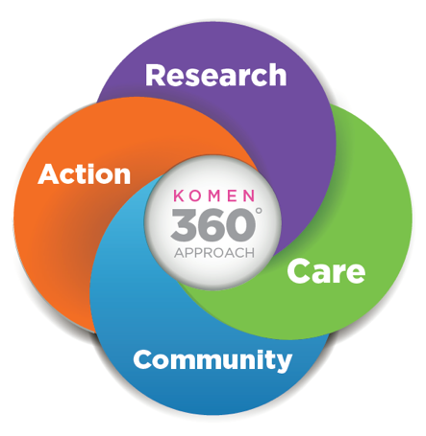 Accelerate breakthrough discoveries by leveraging the power of technology and shared data.
Understand and address the drivers of disparities in breast cancer outcomes and ensure diversity in clinical trials and data collection.
Discover the causes and prevent recurrence and develop better treatments for metastatic and aggressive breast cancers.
Enable patients to access and control their health data.
Support patients throughout the continuum of care through connected and personalized services, including easy access to emotional (psychosocial) support and financial
Collaborate to bring high-quality, affordable care to people where they are.
Overcoming inequities in care, dismantling systemic racism and bias.
Provide people and organizations with platforms to share their passion for the mission and compassion for others.
Connect people of shared experiences with each other and with targeted information and resources.
Provide a safe, supportive and hopeful place for the many communities we are a part of.
Mobilize diverse breast cancer voices into a powerful platform for systemic, lasting change at all levels of government.
Influence decisions within political, economic, and social institutions; advocating for timely access to high-quality care, compassionate patient services, and research funding.
Empower people to advocate for their health and the health of others.
General Fact Sheets & Talking Points