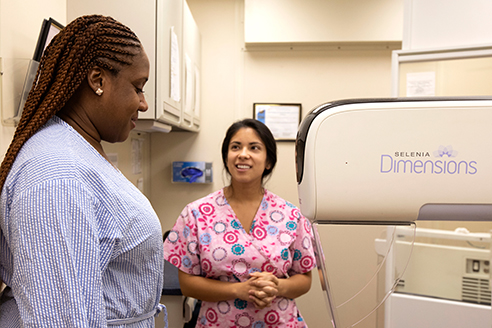 Stand for H.E.R. – a Health Equity Revolution is Komen's commitment to collaboration with Black communities, policymakers, researchers and other key stakeholders to help create a world without inequities and where Black people have the same chances of surviving breast cancer as anyone else. Through this program, Komen offers tailored interventions that equip Black people with knowledge about breast health; supports patients with connections to timely, high-quality care; develops a workforce of diverse and culturally responsive health care workers; ensures representative research that benefits everyone; and advocates for policies that promote health equity.
Health equity means that everyone has a fair and just opportunity to be as healthy as possible. Komen is committed to removing racism, bias and other barriers to care for individuals and communities experiencing health inequities. We work to ensure that all people have access to high-quality programs and services to support their breast health.
Your race and where you live should not determine whether you live.
| Wordmark & Logo Guidelines
The "Stand for H.E.R." logo should be used primarily with the Susan G. Komen master logo and with the full tag line "Health Equity Revolution" underneath.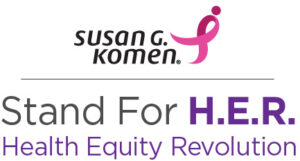 These colors are an extension of the Komen color pallete, to only be used with Stand for H.E.R. branding.

In writing, Stand for H.E.R should always be referenced with a lowercase "f" in "for" (the only exception is the word mark), always uppercase H.E.R with periods. And in first reference for any document, written as "Stand for H.E.R. – a Health Equity Revolution" to make it clear the acronym is in reference to those words.
Additional Stand for H.E.R. Resources
Susan G. Komen Health Equity Revolution digital channels: